WEAPON AND KIT SIMULATORS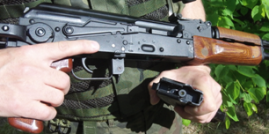 In our practicing–training system for simulation of small arms shooting SNIEZNIK each weapon simulator is made on the basis of the real firearms. This weapon was previously deprived of combat features and equipped with appropriate devices, which are responsible for the proper cooperation of weapon simulator with the system and put realism into its operations.
We are trying to keep this realism by taking care of such simulator elements as:
appearance (dimensions and weight), construction and handling identical as in the actual combat weapon
high level of operating realism achieved by appropriate simulating of weapon functionality (high intensity sound of the shotgun, mechanism movement during reloading, recoil, the realistic operation of fire type switches and safety catches, mechanical and optical viewers),
wireless communication with the system,
pneumatic overload system,
built-in tilt sensor (CZP – Czujnik Przechylenia) and pressure sensor (CZD – Czujnik Docisku),
leading the simulated fire with maintaining ballistic curves (same as real).
In our simulators we put attention to every detail which makes us closer to the most faithful reflection of reality. Filled with CO2 magazines provide the kind of recoil that is made during the shot, characteristic for the respective type of combat weapon. Pneumatic reload system allows to donate a limited amount of shots for the type of magazine.
Wireless communication of weapon Simulator with the system is provided by usage of Weapon Communication Module (MKB – Modul Komunikacji Broni). It is a handy, compact, electronic device that connected to the weapon simulator feeds it, manages its work and communicates by radio with a computer driver of practicing-training device. MKB is not assigned to a specific type or item, it works with any weapon simulator.
The system is equipped with special designed sensors which allow the instructor to monitor the behavior of training people, how do they build the shooting position and aim. This may be particularly useful in the training courses conducted with novice shooters. For this purpose have been developed tilt sensor (CZP – Czujnik Przechylenia) and pressure sensor (CZD – Czujnik Docisku).
Tilt sensor is used to control the current weapon simulator tilting to left and right. And the pressure sensor is designed for ongoing monitoring of tilt between rear of the weapon simulator and shooter shoulder.
These devices are mounted independently and can be used on any weapon simulator.